Animotica provides options for transcoding your media (converting it to a different format or changing its settings) to make it suitable for editing. In this case, Animotica creates proxies for your original media.
This article contains the following sections:
What is a proxy?
A proxy file is a low-resolution media file for the original media. It substitutes the original files to increase video editing performance. Proxies are copies of original media files (video, images, audio) optimized for editing in Animotica.
Why do I need to use proxies?
Proxy files increase editing performance and take up considerably less RAM and GPU memory. It helps you edit Full HD or 4K video on weak PCs. Animotica creates proxies for video and audio, which can't change the position (effect on splitting, trimming).
Do proxies affect exports?
No, Animotica always takes the source/original media to export to the final video when you export a project.
Does Animotica delete my original files?
No, Animotica always retains the original media for future use when transcoding files, aka creating proxies.
How to turn off/on proxies?
To turn off/on proxies:
On the application Home page, click the hamburger menu;
Go to the application "Settings";
Select the "Performance" tab;
Turn the "Automatically create proxies..." toggle on/off.
The dropdown list below can help you to set up the threshold value for creating proxies.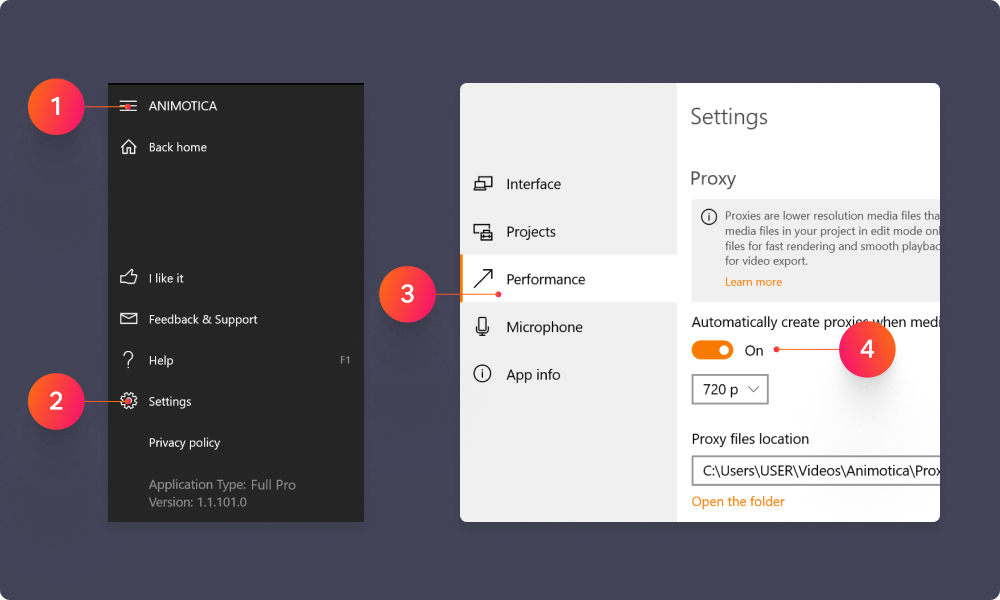 Illustration 1: Performance tab
How to remove all proxies?
Animotica saves all your proxies in one folder. To remove all proxies, clear the proxy folder.
To find this folder:
Go to the application "Settings";
Select the "Performance" tab;
At the bottom of the pop-up, you can find the "Proxy files location";
Click "Open the folder" below this field (look at illustration 1);
Remove unnecessary proxies.
How to recreate a proxy for media?
Have you removed all your proxies? You can recreate a proxy for any of your media files.
Also, if, at this moment, automatically creating proxies is turned off, but you need a proxy for one item of your project, you can create a proxy right away without leaving your current project:
Right mouse click on the item (video/photo);
Select "Media file," then "Proxy file";
At the bottom of the pop-up, click "Create a proxy."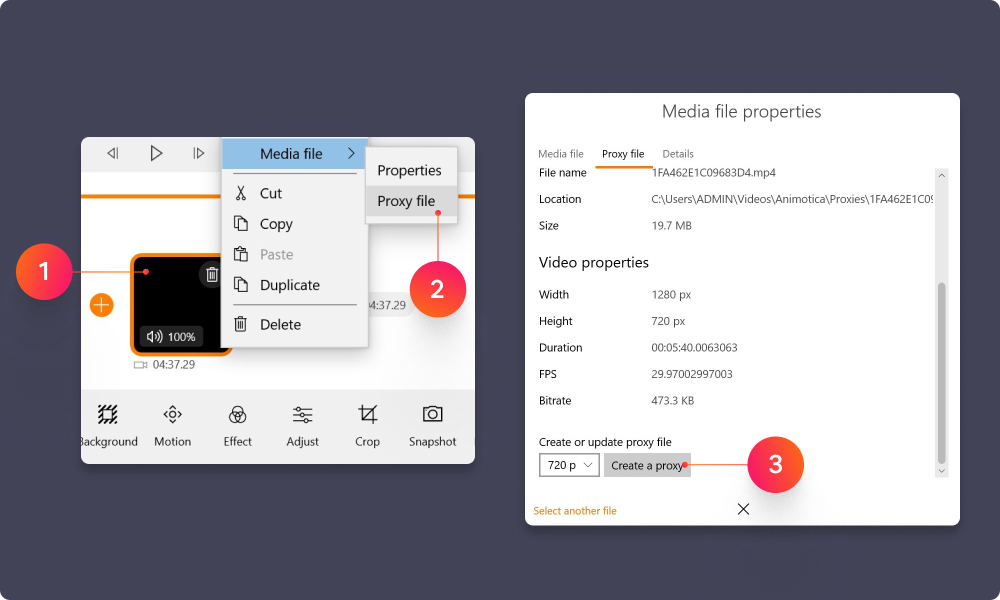 Illustration 2: Media file properties
How to improve performance and avoid mistakes?
There are a few tips on how to make your work more productive and better:
Use Prepare videos for Animotica tool to avoid mistakes during the editing or exporting;
Choose a lower resolution value for a proxy creation;
Set up Low Preview quality while editing.
Related topics
How To Prepare Videos For Animotica?
How to Prepare/Convert a Video Using FFmpeg Tool for Animotica?
Why can't I add videos to Animotica?
Why can't I add photos to Animotica?