Whether you're transitioning to a new device or simply looking to expand your creative horizons, activating the Pro version on another PC is a breeze. Follow our step-by-step instructions to take your video editing skills to the next level and achieve your creative goals.
Step 1: Sign In to Microsoft Store
Open the Microsoft Store app, which you can find in your list of installed applications, or search "Microsoft Store" in the Windows search bar.
Click on your profile picture or initials in the upper-right corner of the window to access the drop-down menu.
Select "Downloads and Updates" from the menu.
Locate "Animotica" in the list of apps associated with your Microsoft account.
Click on "Install" if you've previously purchased the Pro version of Animotica. This will download and install the Pro version of Animotica on your new PC.
By following these simple steps, you can easily enjoy the benefits of Animotica Pro on your new device.
Note💡
By using a single Microsoft account, you have the ability to activate the Pro version on up to five different devices.
Step 2: Verify Your Application Type
You can launch the application once Animotica is installed on your new PC.

You will find a hamburger menu icon in the upper left corner of the Animotica interface (three horizontal lines). Click on this icon to open the menu.

You will see your application type displayed in the lower-left corner of the window. This will confirm whether you have the Free, Light Pro, or Full Pro versions of Animotica.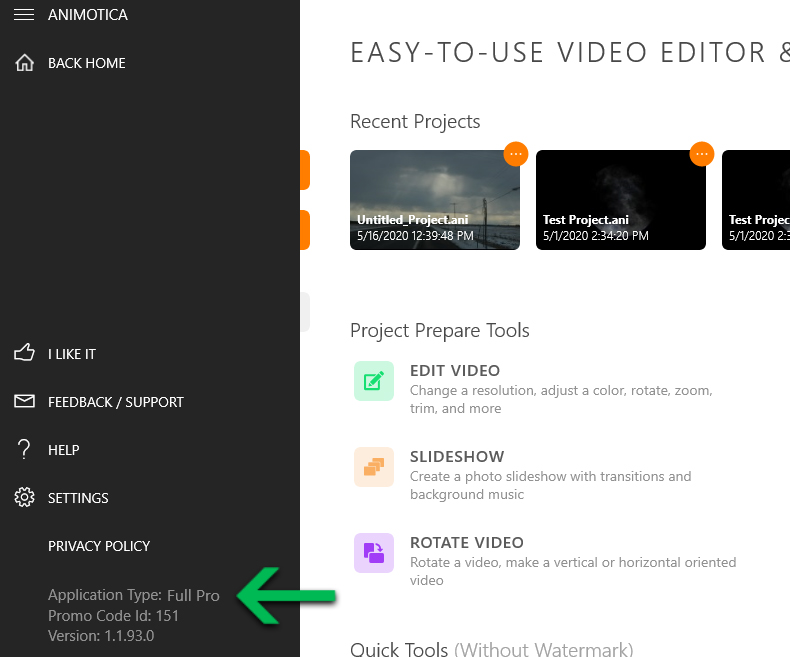 By following these steps, you can seamlessly activate the Pro version of Animotica on another PC using the same Microsoft account as before. This will grant you access to a wealth of powerful editing tools and features, enabling you to create professional-quality videos that truly stand out.
Please keep in mind that using a consistent Microsoft account is key to making sure that your Pro version privileges are carried over to your new device. With Animotica's Pro version activated, you can harness the software's full potential and produce videos that leave a lasting impression. So dive into your video editing journey with confidence and creativity!