When creating animated videos in Animotica, using media files such as video clips, photos, and audio is crucial. However, you may encounter a frustrating problem where Animotica is unable to locate your media files when opening a project. If you come across a pop-up window prompting you to "link project files" when opening an Animotica project, it indicates that the app can't find the files that were previously linked. The good news is that this issue is easily fixable!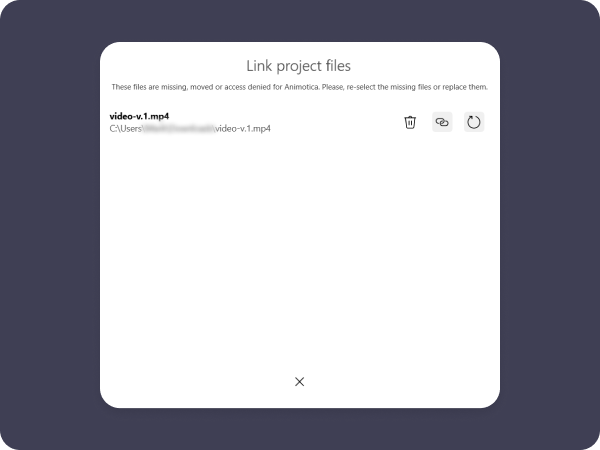 Illustration 1: The "Link project files" pop-up message
What Causes Missing Media Files?
There are a few common reasons Animotica may lose track of your media:
Moving or renaming files on your computer after adding them to the project

Storing files on an external drive that is now disconnected

Using cloud storage like Dropbox or Google Drive and removing synced folders
How to Relink Media Files
When prompted to link files, click the "Choose file location button" and navigate to the current location of your missing media on your computer.



Select the files when Animotica asks you to relink.

The files will be linked again and appear as usual in your project.
Tips to Avoid Broken Links
Store all media files for your Animotica project in one folder on your computer's hard drive.

Do not move or rename files after adding them to your project.

Do not store files only on external drives or cloud storage that could lose connection.

Save a backup copy of your Animotica project file when complete.
To ensure that Animotica can access the required media files whenever you open your project, make sure to follow these best practices. But if you need to relink files, don't worry. The process is simple. For further assistance on starting with Animotica or linking media, please reach out to our support team @ support@animotica.com. We're excited to assist you in creating fantastic animated videos!
Happy Editing! ✨